Best Glass Lined Thermos
We are a participant in the Amazon Services LLC Associates Program, an affiliate advertising program designed to provide a means for us to earn fees by linking to Amazon.com and affiliated sites.
As an Amazon Associate I earn from qualifying purchases.
Nowadays, mostly the material used for making vacuum insulated bottles is stainless steel. However, we cannot deny the trend of glass-lined thermos for everything good. The glass-lined thermos can efficiently keep the drink hot or cold without imparting any sort of bad taste like a metallic smell into it.
These thermoses are still difficult to find in the market as they are not widely available. In this list, we will help you get the best glass-lined thermos that you can include in your daily life.
Since the 1960s, the market has been surging with stainless steel bottles in place of glass. Nonetheless, you can still get glass-lined thermos in different sizes that will make your life easier. How? That you will get to know about it in our next section. So, keep reading to know everything about glass-lined thermos.
Why Get a Glass Lined Thermos?
Although vacuum insulated bottles having stainless steel bodies are popular, some people could taste a metallic odor while sipping from the bottle. Hence, these people are always in quest of something that has the usefulness of a strong stainless steel insulated bottle with an internal glass or ceramic lining. Thus, while they take a sip of their favorite drink, it doesn't impart flavors.
This is why people are turning towards glass-lined thermos, which garners the best of both worlds.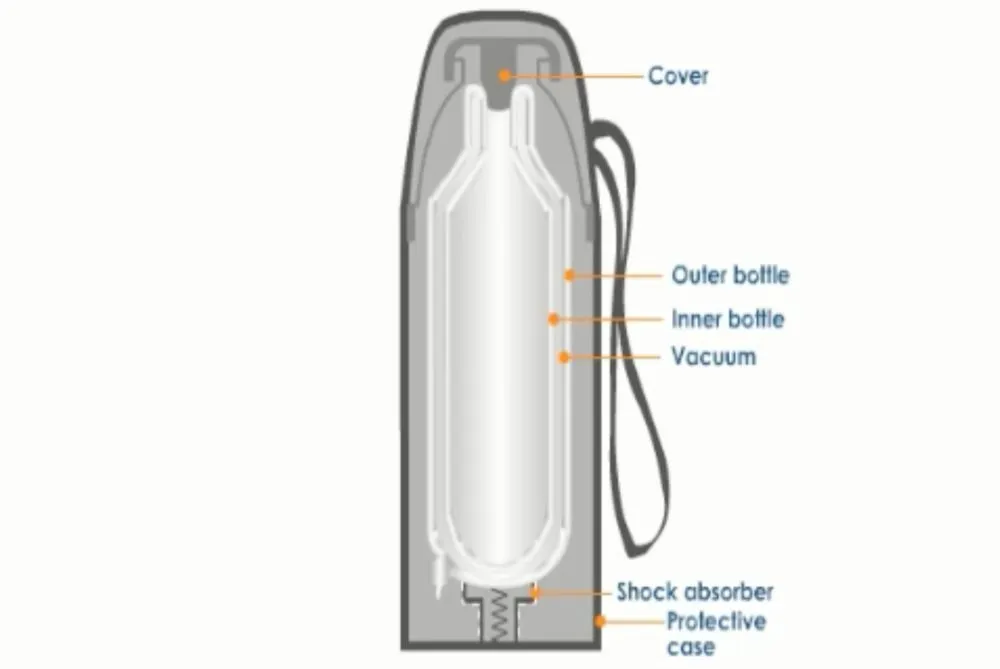 The Advantages of Using Glass Lined Thermos
Glass-lined thermos is safe for the environment. It is an eco-friendly option.
It is safer to put liquid in it and drink as there is no use for chemicals. Generally, they are BPA-free.
While sipping from a glass-lined thermos, you wouldn't get a metal taste. You can enjoy the authentic taste of your drink.
The Disadvantages of Using Glass Lined Thermoses
Here are some care instructions that you need to follow if you are considering using a glass-lined thermos. These are not simply just instructions but also a matter of concern.
Breakage of glass may lead to burning or getting cuts to body parts, including hands, eyes and face.
The vacuum glass-lined thermos is not suitable for children's use. Always keep it out of their reach, especially when it contains hot drinks.
Avoid storing or carrying ice cubes in it unless it has a plastic insert. Or else it can cause damage to the inner lining.
Never put your hands, objects or any cleaning device into the glass thermos if it doesn't have a plastic insert.
Make sure to check out the product to see if there is any crack or break before you start using it.
From the above points that you will typically find in almost all glass-lined thermos warns of glass breaking. It even suggests not to store or even put ice cubes inside the thermos. If done otherwise, the glass lining could break.
Hence, in comparison to stainless steel thermos, a glass-lined thermos is more prone to break down. Since a vacuum can produce a good amount of inward pressure, even a tiny crack or a small scratch on the glass can become a cause of complete shattering. Consequently, your drink will be full of small bits of glass in it.
Besides, there are some apparent cons as well:
High-maintenance
Need to handle with great care
Only suitable for carrying liquid
Moreover, a sudden change or temperature fall may be the cause of thermos breakage. Therefore, the much cheaper stainless steel thermos is so popular and available everywhere.
Nonetheless, glass-lined thermos has some good qualities, which is why there is a resurgence of it in the market.
Best Glass Lined Thermoses
We know it is a task in itself to search and find the desired glass-lined thermos. Below is a list of the best glass-lined thermos from the lot.
Check them out and choose the one you like the most. For your convenience, we have also mentioned some significant details and summed up with a few pros and cons of each product.
Thermos 3410USP"Add-a-cup" Beverage Bottle 35 OZ
The Thermos Add-a-Cup Beverage Bottle is perhaps the biggest sized bottle available. It has a plastic exterior that acts as a protective layer and a thick, strong carrying handle. Plus, it comes with glass vacuum insulation to retain maximum hot or cold temperature.
When you open the lid of this bottle, you get two plastic cups that are suitable for pouring the liquid and drinking. In addition, the twist top stopper can open and be usable for a dual purpose like a drinking cup or storage container for items including tea bags, coffee powder or sugar. Also, you can pour drinks without removing this twist and pour stopper.
If you are looking for a versatile glass-lined thermos buy, get this one. It is productive and available at a decent cost.
Pros
Strong and durable protective plastic on the outside
Sturdy handle with a softer rubber grip
It has multiple cups
Offers dry storage space in the stopper
Cons
Colour may vary
The larger size may be difficult to carry
Glass Liner Vacuum Flask Stainless Steel Water Bottle Insulated Travel Coffee Mug, 11oz
The Glass Liner Vacuum Flask Stainless Steel Water Bottle Insulated Travel Coffee Mug is our next recommendation. It can endure the rapid fluctuations of liquid temperature from -5 degrees up to 150 degrees. In this product, there is no tint of chemical leaching.
The glass liner vacuum coffee mug is a product of high-quality boron glass liners. Hence, you don't have to worry about the presence of heavy metal or toxic chemicals in your coffee.
Besides, the Glass Liner Vacuum FlaskStainless Steel Water Bottle comprises a 304 stainless steel body and a stainless steel tea strainer. The lid also consists of food-grade plastic.
This vacuum flask insulated travel mug is a useful product that promotes good health. The best thing is you can carry lemon juice, plum juice, fruit juices, milk, carbonated drinks and more.
Pros
Does not leave a metal taste
Ideal to use while travelling
Retains temperature for a longer time
Easy to clean
Cons
It is not so durable rather fragile and can break easily
Does not keep drinks hot for a long time
It might not be ideal for some as it is a bit smaller in size
Thermos 33105A 17 Oz
Imagine getting a hot cup of coffee or tea after hours with no mediocre taste. Is this even possible? Well, with this product, it is possible.
Now, get a hot cup of your favorite beverage even after storing it for hours in this thermos. Also, enjoy the precise taste of it without the metallic taste.
This Glass Vacuum thermos is 17 oz which looks more compact and perfect for personal use. Its soft rubber integrated handle is really comfortable to hold and pour drinks. Plus, the thermos lid is also usable as a cup to pour drink water, tea, coffee or other beverages.
Pros
Compact and portable
Lid with integrated handle is usable as a cup
Affordable price
Imparts no extra flavours
Bottom Line
Though there is a huge surge in the use of stainless steel bottles, the glass-lined thermos is regaining its demand. It is not only affordable but also offers a great cup of drinks. So, get them, use them and see the difference in taste and other benefits yourself.
Thermos Interesting Articles